If more and more people, from all over the world, choose to spend their holidays in an Agriturismo in the Marche, it is because of the environmental, natural and cultural richness that makes this region one of the most beautiful in Italy. It is because of the wonderful Adriatic Sea, the smooth hills hidden among still vineyards and pastures, but it is also due to the lively atmosphere of the many events offered by towns such as Fano, Pesaro, Urbino and Ancona. The farmhouse La Meridiana is the perfect solution for those who do not want to stoop to compromises with their holidays. Our wonderful agriturismo is located just beside the Adriatic coast, between the valleys of the rivers Foglia and Metauro, with their woody hills, vineyards, olive tree groves and orchards, where old villages, monasteries and villas are great testimonies of the ancient history of this land. We are in the province of Pesaro, at the northern boundary between the regions of Marche and Emilia Romagna, the perfect place to spend a pleasant and unforgettable time among exclusive and variegated surroundings. In fact, La Meridiana fits the needs of those who want to enjoy pleasant cycling tours and hikes, thanks to its fascinating natural landscapes, but also of those who prefer to taste foods and wines among the most qualified and appreciated in Italy.

It is easy to reach the town of Fano, which is at only 18 kilometres from the agriturismo La Meridiana, as well as other sites such as the Catria Mountain, the cities of Urbino, Gubbio, Cittą di Castello, Arezzo and many other touristic places of the Riviera Romagnola. However, our guests can also choose to spend their time in relax, thanks to the particular location of the villa, in the middle of a 40 hectares farm cultivated with cereals, forages, vine and olive trees. La Meridiana offers different solutions for its guests, who can rent it with all the comforts of the Bed&Breakfast formula, also for short periods; or as a Holiday House, which particularly fits the needs of families or groups of up to nine people, who prefer to spend longer periods in the Marche, and who need more autonomy during their stay, having the whole villa at their disposal, including the use of kitchen and living rooms, three double bedrooms and one triple room.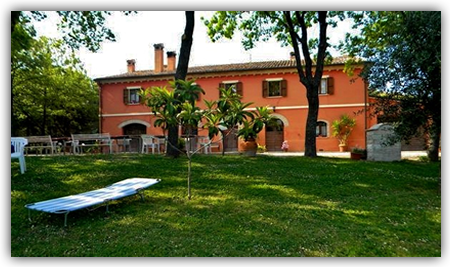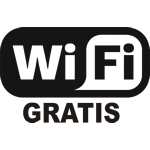 Surroundings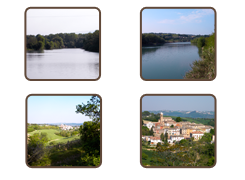 Our proposals
La Meridiana
offers
the possibility
to
stay
overnight
,
for eight
people in the
farmhouse
in double rooms
each with
bathroom (with
the possibility of two
extra beds)
.